Featuring Ann Shaw
Debbi Wilkes welcomes Skate Canada Hall of Fame member, Ann Shaw. As a former international dance competitor and now a retired official, Ann has experienced every part of the skating world. From judging national, world and Olympic events to serving on the ISU Dance Committee, Ann's pedigree and contributions have helped promote and define our sport in Canada and around the world.
For skating "lifers" like Ann Shaw, passion for the sport never waivers. Ann's commitment and vision continue to inspire and challenge how to progress the sport in its evolution.
Enjoy this special podcast as Ann shares some of her most memorable skating experiences.
Today: 

My Life On and Off the Ice
by Alaine Chartrand, Canadian Champion
It has now been a year away from training and competing and what a year of growth and learning it has been. Two years ago, I made the decision to skate one more season for myself and was looking forward to the start of my Kinesiology degree at York University. Fast forward two years, and I'm still spending the majority of my time at a rink and at school – just in a different capacity. I started to work full-time as a skating coach as well as continuing my university studies, albeit in another city across the country.  
Getting into coaching was never something I originally saw myself doing. Some skaters plan to become a coach as a career path – but that was never me. Honestly, I thought of coaching as a way to pay living expenses while going to school, but it quickly turned into something I love and look forward to every day. The moments of watching a student improve and achieve a new skill is gratifying. It's been a rewarding feeling to see skaters' joy for the sport grow and be able to help them through tough times. 
Last summer, I coached at Burnaby Skating Club and Sunset Skating Club and in the fall when my studies resumed, I had to stick to one club – Sunset Skating Club. I've had the opportunity to work with all levels of skaters from the Pre-Canskaters taking their first steps on the ice to the Junior Development skaters being introduced to their first figure skating elements, STARSkaters working on their double jumps, and even the top competitive skaters competing at Challenge and the National Championships. I have also been teaching off-ice classes including jump classes and conditioning classes and hosting informational sessions with skaters and their parents.  
Last August, I attended my first competition as a coach at BC Summer Skate 2019. I was there with a skater from the Burnaby Skating Club in her first Star 5 competition. Although she made some mistakes and was not satisfied with her performance, I was proud of her for standing up on her first double loop attempt in competition. This competition was eye opening – what a roller coaster of emotions these competitions are for coaches! I think I was more stressed as a coach than I was as a skater. Now I better understand some of the oddities of the coaches you see at the top level while watching their skaters compete. 
All my experiences in the last year of coaching have inspired me to work towards my National coach certification so I can have the possibility of attending the 2020 National Skating Championships in Vancouver as a coach. 
One thing I wasn't expecting from my transition from skater to coach was developing an entirely new perspective on the sport. I've taken helpful things that my coaches taught me throughout my own personal skating career and have begun passing them on to the next generation.  
At the same time, I have been able to look back on my career and think about the things I would change. Some of those things were beyond my control as an athlete, but now as a coach I can help control those aspects for the skaters I teach. One issue of importance is the promotion of positive body image and combatting the myth that "thinner is better". This myth has unfortunately been ingrained in our sport and is still taking an emotional and physical toll on many young skaters. I have become quite passionate about the subject and even chose to write a paper on it for one of my university classes. Another thing that I wasn't always good at in my training was working both hard and smart – I was good at the former but not always the latter, but it is so important to do both. Time away from skating has given me the opportunity to step back and look critically at these issues and help educate the skaters I teach. 
In the fall, I had the opportunity to lead a few seminars in BC and I have to say that I love doing them. Growing up in a small town, I participated in many skating seminars. They were a way for me to get exposure to the top coaches and skaters in the sport and learn something new that I could add to my training routine. Now, being on the other side, I am excited and feel I have so much to offer and share with the skating community.  
Last fall I was drawn back to the ice for an open session after a 5 month break. As a competitive figure skater, from the age of 6-years-old, I never took more than a week off – this was an incredibly long break. From that session onwards I tried to skate at least once a week for some exercise and enjoyment. It was such a different feeling to have the choice to skate and the freedom to do whatever I wanted during my time on the ice. At the Sunset Skating Club, most of my fellow coaches are in their twenties and in university, so it makes for a fun environment. I was skating enough that I was asked to perform in our club's Christmas show for both a solo and a coaches' number. It was nerve wracking but fun to get back out there for a crowd in a new atmosphere. 
I love keeping up with current skating news and trends as I have always been a huge skating fan – even while I was actively competing. At my own competitions I would make time to watch the practice sessions and competition of other disciplines. So naturally when Skate Canada International (SCI) came to Kelowna in 2019 I took a quick flight to get there to watch the pairs and men's free programs. I witnessed some incredible skating at SCI. It was great to be able to watch and cheer for so many of my skating friends, former teammates, and training mates without the stress of competing myself. It was special for me to reunite with my dear friend Lubov Ilyushechkina and see her return to competition and witness the signature "handstand" lift in person – incredible! I was also lucky to be in the stands for Nam Nguyen's killer Beatles free program that earned him a roaring standing ovation and the silver medal. Being at the event and seeing the success of the Canadian team brought on some conflicting feelings for me as if I had continued to skate the past season I likely would have been competing at that event. Overall, it was a good test for me, and I enjoyed being back in the atmosphere and energy of a major competition as well as being able to embrace the skating fan in me. 
Outside of the skating world, I am heading into my second year of Kinesiology at the University of British Columbia. The program is tough but, in many ways, skating prepared me for this different challenge. I love the variety of courses offered within the Kinesiology program, such as anatomy and physiology, but we also get to take courses like sport psychology and nutrition, which are of interest to me and can be connected to my coaching. As far as the campus goes – I'm not sure it could get any better. Huge open green spaces with ocean and mountain views make the grind a little easier. 
Both within and outside of those two components of my life, I have been trying to say yes to everything that comes my way. As a skater competing at the world level, I was very strict about who and what I let in my life and how I managed my time. I was so used to saying "no", whether that was to seeing friends outside the rink, attending events, participating in certain activities, or eating certain foods. In the last year, I have been able to say "yes" and have ended up with a lot of firsts because of it. I attended food festivals and social gatherings, went to a spa, travelled on a ferry, went skiing and had many more adventures that simply weren't possible while competing. 
These days, weekends are my chance to try out the local food scene, catch up on homework and coach a few hours. My schedule is the same September through April, Monday to Friday – I have class in the mornings, and I head to the rink in the evenings. 
Regarding competing, I definitely thought I would have made a final decision by now on whether I will return to competition or not, but depending on the day, I still go between "No thanks, I like my new life" and "I don't want to have any regrets in a few years". I have heard that, when considering retirement, many athletes say they just "know" when it is time for them to make that decision. I have not yet felt that pull one way or the other, and I feel comfortable now with leaving my options open.  
I look forward to the day when we can all enjoy skating competitions once again – regardless of which side of the boards we are on. 
The King
by Nancy Sorensen, Official 
Hungarian is unique since it does not belong to any major language group.  It is rumoured to be related to Finnish or Turkish but when I have heard these tongues spoken, I have never been able to recognize any words.  A country in Europe with a language all its own!  In Hungarian, "kiraly" means "king". 
Ede Kiraly was born in Budapest in 1926, and as a young man, juggled two figure skating disciplines, singles and pairs, while completing his education at the same time.  He graduated from the Budapest University of Technology in civil engineering while making his mark in international figure skating.  His successes were impressive.  In post World War ll, he won four European medals (three gold, one silver), five world medals ( one gold, three silver, one bronze), and Olympic silver, in the two disciplines, and in only three competitive seasons.  Major accomplishments! 
It was in London, in 1950, with partner, Andrea Kekesy, that he won gold at Worlds.  In singles, Kiraly was second to Dick Button, both men in a class by themselves.  The two of them were instrumental in putting forth the double axel in Mens events and were already attempting triples in practice.  In pairs, the Kiraly/Kekesy duo was one of the first to execute the overhead axel lift in competition. 
Politically, Hungary was now dominated by the USSR.  These were the times of the Iron Curtain, the Eastern Bloc, and the Berlin Wall.  Sports handlers, government appointed, accompanied their sports teams everywhere.  An intelligence officer for the Hungarian state, travelled with Kiraly at all times, keeping his passport and all identification and travel documents. 
Following the 1950 world championships, major skaters were to compete in Paris, in the prestigious Grande Coupe de France.  Kiraly was one of them.  Paris newspapers noted that champion, Ede Kiraly of Hungary, had not arrived.  Where was he?  With no money or credentials, he had taken sanctuary in London. 
At age 24, Kiraly felt threatened.  He sensed a constant danger, considering many educated types were being "purged" in Hungary and had been ordered to join the Communist Party.  His defection was denied by the Hungarian government.  Their "star" was simply remaining in London for extra training with coach, Arnold Gerschwiler, and would be returning to Hungary. 
Dick McLaughlin, of the General Motors family, was instrumental in bringing Kiraly to Canada.  McLaughlin had been a successful competitive skater, medalling in Junior and Senior events at the national level.  Later, he was to represent Canada as an international judge and from 1957 to 1959, became President of the Canadian Figure Skating Association, now Skate Canada.  Ede, now called Ed, was to join the Oshawa Figure Skating Club as a coach. 
The Oshawa organization in the 1940's and 1950's, was one of the most successful clubs in Ontario, boasting national level judges, such as Ian Greenway, and an impressive roster of Canadian medallists, including Alan Anderson, Dawn Steckley, David Lowery, and Geraldine Fenton.  Kiraly would be involved with top notch skating talent.  During the summers, he coached at Cobourg Summer Skating School and, in 1952, worked with Marlene Smith, who captured the Senior Ladies title at the Canadian Championships that winter. 
One skater, naturally athletic, began to blossom under Ed's direction.  He even volunteered his time for this skater who, he believed, had international potential.  Ed Kiraly was Donald Jackson's first real coach.  He was both a friend and an inspiration to the young skater.  In later years, when I watched Don perform, I could see some of Kiraly in Don's skating. 
Disaster struck twofold when both the Cobourg and Oshawa arenas burned down. Neither location recovered its previous potential in training elite skaters.  Ed Kiraly now became coach for the Peterborough Figure Skating Club and the move to Peterborough enhanced his engineering prospects and consulting opportunities. 
Figure skating sessions were held in the new Memorial Centre, home to the TPT Petes (now, just "the Petes") a major junior hockey group under the umbrella of the Montreal Canadiens, the parent team. 
One of our practice sessions was just before a Petes hockey scrimmage.  The players, hockey sticks ready, banged on the boards, rowdy and impatient, guffawing every time a skater stumbled or fell. 
On a particular evening, Ed skated over to the boys and invited them onto the ice.  They raced him forwards first but couldn't catch him.  Backwards, it was no contest.  A few other manoeuvres convinced the fellows that figure skating may be a lot harder than they thought.  In his gentlemanly fashion, Ed explained how some people enjoy gliding, dancing on the ice, and moving to music.  Others, like themselves, prefer the team concept, the common effort.  "We all make mistakes because we are still learning our skills.  I think there is room on the ice for all of us.  Don't you?"  We never had a problem again. 
The 1956 Hungarian Revolution provided Ed with the opportunity to bring his mother to Canada.  With no English skills, Mrs. Kiraly found a "comfort zone" with the six Hungarian families in the city, my family being one of them. 
It was during Ed Kiraly's tenure in Peterborough that a new facet of his talents emerged, to the delight of the skating club and, a surprise, perhaps, to Ed himself. 
Carnivals!  How does a skating club survive?  Membership and the annual carnival!  Club competitions were hotly contested events since competition results usually determined who would get a solo in one of the production numbers.  Everybody participated in these affairs.  Fathers built scenery and props, worked the spot lights, while mothers sewed the costumes and organized behind the scenes.  There were volunteer jobs for everybody and anybody. 
With coaching and an annual skating presentation to contend with, in addition to engineering responsibilities, Ed rose to the challenges magnificently.  At every chance, he travelled to professional shows to get ideas.  Inspiration was gleaned from other carnivals, even those across the border in New York.  With borrowed, altered, and original concepts, Ed designed and choreographed all routines himself.  I was always amazed at how he could remember all the steps and moves as he worked with one group, then another, then another, and never mixed them up or forgot a step.  He was a man of great vision, able to picture the movement of groups on the ice and how to interact and adapt them to specific themes and routines. 
Ed believed figures and free skating had a special connection.  Slotted into every carnival was a Kiraly attempt to educate a hockey-oriented public in the basics of figure skating.  He would glide out with a giant cardboard skate and move it this way and that way while the announcer talked about inside/outside edges.  Cardboard skate aside, Ed would demonstrate the edges and turns, followed by a slow-motion footwork sequence, the turns and edges being identified by the announcer.  The conclusion, was his performing the identical steps, full speed, as in an actual free skating program, so the audience could understand and actually "see' the connection. 
For variety, at some carnivals, on clean ice after intermission, a number of us would be on the ice, practising various figures.  Ed, with his giant skate, would glide around showing the lean of the blade for the various edges in the figures being performed.  I always got to do the fifth test change loop.  These demonstrations were well received. 
Of course, in every production, Ed skated a solo which included the double axel, the signature jump at that time.  His first encore was usually a flurry of intricate and dizzying footwork with a single axel followed by a double axel, to show the audience the difference.  It was the second encore we loved.  His change sit spin was terrific, his legs flashing out as he shifted from one foot to the other.  The delighted spectators would count the number of times he changed feet. 
Kiraly had great audience appeal.  He always came out smiling, maintained eye contact with the onlookers and had a definite ice presence and personality. 
As with all carnivals, the Peterborough club had guest skaters.  For one production, Andrea Kekesy Bernolak, Ed's former partner, now a coach in Pembroke, Ontario, was invited as our special guest.  Andrea skated a solo but it was when she and Ed performed together that it became magical, that unique partner awareness, the unison, the obvious respect and trust, one for the other.  Afterwards, in conversation with Andrea, she told me that their pair routines for Worlds were so finely tuned that whenever she put her hand out, Ed's hand was right there.  Old rumours hinted that Kekesy and Kiraly had been romantically linked but Andrea met and married someone else.  Ed never married. 
In 1958, Russian Skaters entered the World Championships for the first time, a pair team.  In 1960, the Soviets returned with two pair teams and a couple of singles skaters.  Vancouver hosted the competition and in Cold War times, the appearance of Russians was significant and generated high interest.  The championship was just over.  To add to our carnival roster, Ed, somehow, managed to invite the two Russian pair teams as guests to our local presentation.  Invitation accepted! 
The newspaper, The Peterborough Examiner, area television, and general gossip, were absolutely frantic!  The Russians were coming……to Peterborough!  Ticket sales skyrocketed.  Our three shows, Friday evening, Saturday matinee and Saturday evening, were sold out, with spectators packed in as tightly as fire regulations would allow. 
Club officials and Ed were so excited, yet apprehensive.  How would the audience react to a Cold War enemy?  Would there be a problem?  To ensure his athletes were always in full view, the Soviet team leader demanded that his skaters perform in full arena lighting, no spot lights, no patches of darkness. 
The spectators did themselves proud.  Each performance received thunderous applause and encouraged encores.  Everyone swooned when one of the Russian pairs displayed its glorious death spirals, later to become a signature element for them.  Oleg and Ludmilla Protopopov were just beginning to make an impression in world level pair skating.  In later years, they would become prominent members of pair skating's elite and World and Olympic champions. 
The media went wild!  Video clips dominated local television and extensive carnival coverage peppered the Examiner.  For Ed, it was an incredible coup!  The participation of the Russians in our carnival was a fantastic first!  Under Ed Kiraly's tutelage, the Peterborough Figure Skating Club's productions became one of the most successful amateur carnivals in all Eastern Canada. 
At the banquet afterwards, the Soviet group sat together, the ladies in their frilly dresses, and the men in identical suits.  As expected, with Eastern Bloc athletes, they were accompanied and well guarded by various chaperones, a constant presence. 
I left Peterborough in the fall of 1960 and lost touch with the city and its activities.  My only knowledge was that Ed Kiraly was still there with the constant conflict of skating and engineering commitments. 
In 1997, the 50th anniversary of the Peterborough Figure Skating Club was held at the Memorial Centre.  I attended.  Who was sitting directly behind me but Ed Kiraly!  During the show, an announcement was made about a former world champion and club coach.  "A big hand for Mr. Ed Kiraly!"  A spotlight singled him out amidst cheers, applause and a standing ovation, a wonderful acknowledgement of his contributions to figure skating and to Peterborough. 
When Ed's mother died, he moved into full time engineering.  He lived in Peterborough until his death in 2009 at age 82. 
The Budapest Skating Club made a proposal to the Hungarian Skating Federation to have a new arena named in his honour.  The motion passed unanimously with great approval and applause.  You could say Ed had come home as the champion he always was. 
Ed Kiraly demonstrated "kingmanship" to perfection.  He was a world class athlete and champion, educated, a successful engineer, a coach, a talented choreographer and an innovative production planner.  He had experienced political danger and intrigue and had carved himself a new life in his adopted country.  He was always the consummate gentleman.  Ede Kiraly was a credit to his name.
Pierrette Cecilia Paquin Devine: Two-time Canadian Champion and Pioneer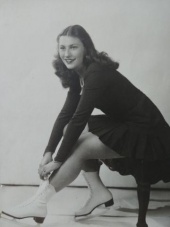 It is with great sadness that we announce the sudden passing of Pierrette Cecilia Paquin Devine on September 17, 2020, at the age of 90, peacefully at home in Luskville, QC.  
Pierrette's many athletic accomplishments in the figure skating world will continue to be celebrated. She is a two-time Canadian Champion and the first woman in North America to qualify as an Olympic figure skating judge. Pierrette's greatest achievement is the impact she left on her students, friends, and family.  
Online condolences may be shared at Coopérative funéraire de l'Outaouais    
Pierrette Paquin Devine, A Canadian Figure Skating Pioneer
Posted by Skate Guard Blog at October 01, 2020 
"We're probably just as nervous as [skaters] are going into a competition. We have to be in the right frame of mind just as they do. The adrenalin runs for us just like it does for the skaters. Evidently we aren't supposed to show it… Believe me, it takes guts." – Pierrette Paquin Devine, "The Montreal Gazette", January 30, 1975
Born in 1930, Pierrette Cécilia Paquin was the daughter of Donat and Elsie (Lapointe) Paquin. She and her sisters Paulina and Paulette grew up in Hull, Quebec in a Roman Catholic family. Her father was a very prominent businessman who owned many cinemas in the area, including the Odéon and French Theaters in Hull, Victoria Theater in Ottawa, Pix in Aylmer and the Régent Theater in Gatineau.
During the height of her skating success, Pierrette would travel anywhere she could to find ice. In the summers, she teamed up with Bill Kipp to compete in the Lake Placid Summer Dance Competitions. During Easter and Christmas holidays, she'd train in British Columbia and Washington state. By this point, she was also regularly working with famed coach Osborne Colson.