NEXXICE Senior
Tune in to listen to NEXXICE legends Shelley Simonton Barnett (coach) and Jennifer Beauchamp (alumnus) chatting about our 9 time Canadian Champions.
Canada Ice Dance Theatre: Volume 4 "Our Good-byes"
By Ron Vincent
When I look back on CIDT history, and the people I worked with, it is with a great deal of sadness over the early losses of the majority of the original principals.
Mary Rose Thacker Temple
Mary Rose, our co-founder, whose fame as Canada's North American Champion in 1939 and 1941 had helped to pave CIDT's way in the beginning, and whose support continued for her remaining years, sadly, at the relatively young age of 61, passed away in 1983. A debilitating neurological disease took her life, and that this could happen to an athlete who was born with unusual physical strength, was hard to accept.
Frank Nowosad
After Frank moved from Victoria to Vancouver, I followed in 1980 to run the national Coaching Development Office and CIDT came with us.
What I can say about Frank Nowosad's and my role as Co-Artistic Directors, is that whenever I was in his company, I felt extremely energized. There was a feeling in the air suggesting that endless possibilities for artistic creation were hanging there like plums, just waiting to be picked.  But often little misunderstandings, possibly due to Polish/English cultural differences, unfortunately often got in the way.
Frank was almost twenty years my junior and being of his time, was also part hippie, while I, it must be admitted, still had authoritarian tendencies. What we did agree upon, above all, was that our vision of skating included not only the athletic, but also the artistic.
Frank was highly intelligent, a fact even strangers saw immediately, and many were drawn to him as students or friends. He was also amusing – his perceptive observations on people and things seemed to come out of the blue, and their apparent randomness somehow made them even funnier. He was never cruel.
Regarding projects he took on, Frank was always selective and cast an eye to their lasting value. He had a strong sense of his life's narrative, a characteristic evidenced by the multitude of his writings remaining there for the record. The final episode he aspired to, and of which he was cruelly deprived, would undoubtedly have taken place in New York, not Vancouver.
For Victoria's Monday magazine Frank regularly wrote critiques on performances of dance and skating, which pieces he sometimes gave me for editing. (I was Editor #2, #1 being reserved for a writer friend.)
While Frank was active in CIDT, over a ten year period he also researched an artist of the Austrian Expressionist School, Ricky Ciccimarra, a prominent painter who had lived for a time in Victoria. It was a major project, supported by leading Victoria artists, for which Frank received a Canada Council Grant. The finished book, simply titled "Ciccimarra, a biography," was published in 1988, five years before his passing.
Frank's skating choreography was eclectic, usually simple and relaxed regarding body positions, and often witty. I think for the most part, we both liked each other's compositions. Ironically, in 1993 Frank was awarded an individual Council Project Grant for skating choreography, at a time coincident with his death.
Tim Brown
The memory of the late Tim Brown, a 1960 member of the USA Olympic Team, haunts me still: when we met, he dressed not as a westerner, but in muslin cloth as would an Indian swami, and making a vow, he had let his hair and beard grow until the war in Vietnam ended. When he came to CIDT in 1976, he continued to present this appearance.
Tim was a remarkable choreographer. He had the rare gift of economy of gesture – that is, finding the precise, appropriate pose or movement to express an idea or emotion. To watch his choreography was like listening to Mozart – one could not imagine it any other way.
Achieving such perfection often meant rehearsing all night long, and his cast members followed without complaint, such was his personal will and the strength of his vision.
Tim returned to the San Francisco Bay area sometime after working with CIDT, and regrettably, I have no knowledge of what became of him except for reading reports of his death at the age of 47, (some sources cite 51) and that his gravesite is unknown. The relative few who were privileged to view his choreography witnessed the work of an exceptional artist who, if he had lived, had much more to give.
And me, Ron Vincent
After thirty-eight years as Artistic Director or Co-Artistic Director of Canada Ice Dance Theatre, I resigned in 2014. There are so many people to thank who volunteered their help over so many of these years it is impossible to list them here, but I must at least point out the valuable assistance of our longest serving President, Jocelyn MacNiel who, as a skater and former coach, understood what CIDT was all about. Others, including the skaters who skated so beautifully, will be remembered in other places and at other times.
It would be satisfying to report that as of today someone, some energetic skater interested in pursuing figure-skating as an art-form, has taken up CIDT's mandate, and that we can look forward to future productions by a Company of well-trained skaters. Alas, this is not the case, and no such person has emerged. Today Canada Ice Dance Theatre, under the Societies Act of BC, retains non-profit status, but disappointingly its activities are much circumscribed, virtually limited to holding a learn-to-skate-class weekly.
Many will join me in the hope that CIDT, once adding considerable interest to Vancouver's theatre scene and providing performing activities to skaters, will, like a phoenix, rise again.
PART 2 Season-starting Memories
As the new skating season swings into action, many Alumni are reminded from years gone by of the thrills and fears experienced at the start of their own competitive seasons. Whether Athlete, Judge, Coach, Volunteer or Hall of Famer, every memory is golden and demonstrates the richness that is part of our individual skating stories.
In this edition of the Alumni blog, enjoy Part 2 of these "season-starting" memories.
Donald Knight (1965-1967 Canadian Men's Champion, 1965 World bronze medalist)
"A couple of things l do remember about this time of year while getting ready for another competitive season.
The first question was …How many week before the first competition? The count-down begins!
My priorities included striving to get in the best physical and mental shape as possible in order to get through my program. And working on my next most difficult jump that I wanted to get into my program. The goal in those days was that it had to be at least 80% consistent or it wouldn't be in your arsenal."
Petra Burka (1964-1966 Canadian Champion, 1964 Olympic & World bronze medalist, 1965 World Champion)
"At this time of year I was working on how I could schedule four hours of figures and two hours of free a day with my full day of classes at school. Remember, there were no special schools for athletes at that time! It meant very early morning training, missing the first class and racing back to the rink after last class."
Sally (Campbell) Rehorick (Juvenile Ladies Champion, Prairie Championships 1962; Olympic Judge, Technical Controller, Chef de Mission Salt Lake City 2002)
"My life as a skater was defined by being really good at school figures. I used to do at least two, sometimes as many as four (yes!) hours a day of figures. I never failed a figure test! In those days at competitions, figures counted for 60% of our total marks. When I won the Juvenile Girls event at the Prairie Championships, I was more than sixty points ahead in figures!
Since the beginning of the skating season coincided with the beginning of regular school, my two daily hours of figures before school gave me a sense of calm, of precision, of geometric beauty.  Our ice was light green, no hockey lines — just the beautiful sounds of clean edges traced exactly one over the other. And the sound of that "swish" of a clean counter turn or a change of edge on a paragraph loop.  Fabulous! Call me crazy — but I still miss seeing those figures in competitions as I think that they had a settling effect on the whole competition.
Nowadays, my skating life is principally as a judge, referee and technical controller and, frankly, there seems to be no real "beginning" of the season.  Or end, for that matter. We are year-round — and what better place to be than in a rink watching amazing skaters?"
Denise Benning Reid (1986 & 1987 Canadian Silver medalist with Lyndon Johnston, 1988 Olympic Team)
"My most memorable start to a season was in 1985, when I was paired up with Lyndon Johnston in early September after Melinda Kunhegyi retired in August. Lyndon and Melinda had been scheduled to compete at Skate Canada and NHK that fall and it was hoped that he and I could work hard enough to still be ready to compete at those events.
It all happened so quickly it is a bit of a blur when I think about it now. Everything you would normally spend the spring and summer working on learning and improving happened in a matter of weeks. I had to learn and train new programs and new costumes had to be made. I also had to get my senior pair test as I was competing Junior at the time.
When I look back on it now, it's quite remarkable that Lyndon and I were able to pull things together so quickly. Six weeks later we competed at Skate Canada and ended up with a bronze medal.  That season we also competed at NHK and made the World Team."
Debbi Wilkes (1964 Olympic Silver Medalist, 1963 & 1964 Canadian & North American Champion with Guy Revell)
I loved the lead-up to the new season … new programs, new music, new costumes and probably travel to new places. It felt like a thrilling time with a world of possibilities every time we stepped on the ice.
In planning for the 1963-64 season, there was another factor in our preparation … the 1964 World Championships in Dortmund, Germany would be the debut of the new Short Program for pairs.
Our free program music was traditionally chosen from classical selections: the Overture from Gypsy Baron, a waltz selection from the ballet Giselle, the Intermezzo from Cavalleria Rusticana for our slow part and our closing from the Sleeping Beauty.
For the new Short Program, Bruce Hyland, our Coach, decided to take us in a completely different direction … show tunes!! Back in the '60s, that was a daring and risky decision but Guy and I embraced it. Skating to selections from the Broadway musical Oliver, no vocals of course, we felt invigorated and inspired and challenged to portray something fun and more light-hearted.
It worked out quite well setting the stage for us winning the World bronze medal. Thanks Bruce for helping push us to accept new ideas.
Sandra Bezic, a member of the Skate Canada Hall of Fame, and her brother Val Bezic won the Canadian Figure Skating Championships from 1970 to 1974 and finished 9th at the 1972 Olympic Winter Games in Sapporo, Japan.
Joannie Rochette inducted into Quebec Sports Hall of Fame
Featured in Radio-Canada, written by Justine Roberge
Eleven members enter the Quebec Sports Hall of Fame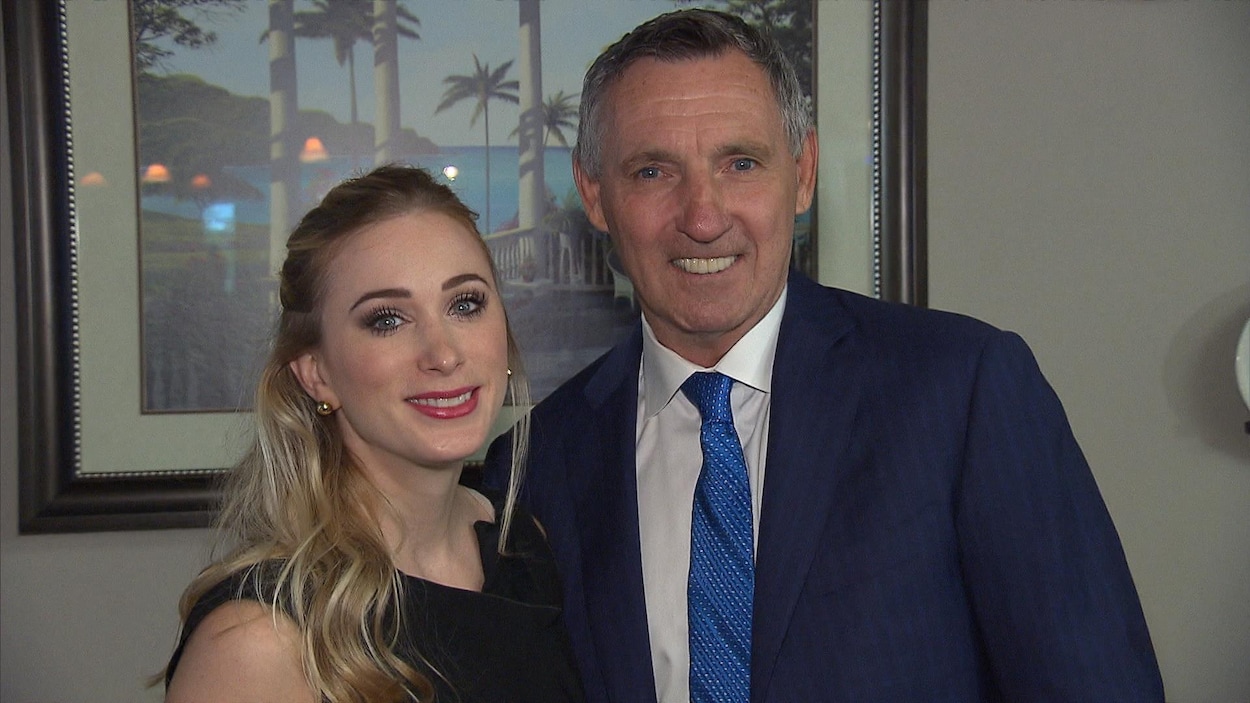 Eleven personalities who contributed to the enrichment of the sporting heritage made their entry on Tuesday to the Hall of Fame of the Sports Hall of Fame of Quebec.
Written by Justine Roberge
The 2018 cohort included five athletes, two builders and four posthumous inductees.
Among them is former hockey player Denis Savard.
Having played in the National Hockey League from 1980 to 1997, mainly with the Chicago Blackhawks, Savard seemed very emotional to receive this honor.
"I had a lot of honors in my life, I'm lucky. But this one touches me a lot, because it's here. I grew up in Quebec. I played my very young hockey in Quebec […] When I had the phone call a few months ago, it was a nice surprise. "
It's home. We are Québécois. Even if we live in the United States, our roots are here. An honor like that, it brings me back to my childhood.

Denis Savard
Savard won the Stanley Cup in 1993 with the Montreal Canadiens.
Video in French Only.
First woman inducted into volleyball
Guylaine Dumont made history by becoming the first woman to be inducted into the Volleyball Hall of Fame. She represented Canada at the 2004 Olympic Games in Athens in beach volleyball with Annie Martin. They had finished at the 5th level.
"It's a great honor. Especially since I did not win an Olympic medal, she said. And often, one associates enthronement to medal. I am even more proud. "
It's really amazing to be first in your sport. It adds importance to that honor.
Recognized as the greatest Canadian player in her discipline, Dumont has also had a career in Italy and Japan.
Video in French Only.
Curling welcomes its first member
Guy Hemmings was the first athlete to enter the Hall of Fame in curling.
"It's a great honor on a personal level," he said. When you spend many years of your life training and practicing the sport you love, being recognized by many people is an honor. "
If we go back 20 years, curling, especially in Quebec among francophones, was not recognized. It was recognized as a social sport first and foremost. To find myself among the legends, it gives a lot of credibility to the sport.
Hemmings led his team to two consecutive Brier finals in 1998 and 1999.
Video in French Only.
Joannie Rochette among the legends.
Former figure skater Joannie Rochette also entered the Hall of Fame. The one who is studying medicine was very touched to receive this distinction.
"It's really an honor to join my idols that are already in the Pantheon. I never thought, when I started skating, to go there. It's been 8 years since the end of my career in 2010, and I had time to take stock. Looks like I appreciate it even more. We all have stories that are similar, but different at the same time. I think we understand each other and it's fun to meet here. It's a special moment in a career. "
Rochette won the bronze medal at the Vancouver Olympics in 2010, besides being sacred six-time Canadian champion.
Andréanne Morin, who won the silver medal at the London Rowing Games, was also inducted into the Hall of Fame.
Jean-Guy Ouellet and Bernard Trottier were honored as builders.
Édouard Carpentier, Maurice Filion, Roger B. Mondor and Roy Alvin "Red" Storey were inducted posthumously.
Christopher Bourne inducted into the Chatham Sports Hall of Fame
Chatham Sports Hall of Fame welcomes Class of 2018
The Chatham Sports Hall of Fame opened its doors to five new inductees Thursday.
December 2018
ACT QUICKLY…only 3 packages left…
January 2019
We'd love to hear from you! Today staying in touch is easier than ever!
E-mail us your stories, photos, thoughts, suggestions and questions. We can't guarantee we'll print each one however we will certainly read every word and in the case of questions, find answers to them all.
Contact Celina Stipanic, Alumni and Fund Development Manager at [email protected]